A Dressing Room Conversation
with Patrick Cassidy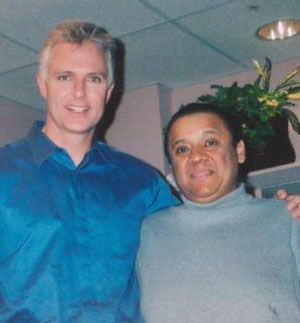 by John Garcia - The Column
November 19, 2004


Photo: Timm Zitz

There are actors who only have to do one film or stage role that can impact the viewer with their talents. They bring something so special and so rare to the role that those images that flicker on the screen somehow stay embedded in your memories.

In the case of Patrick Cassidy, it was his compassionate, raw, and devastating performance as the closeted soap actor star in the ground-breaking film, LONGTIME COMPANION.

To many, LONGTIME is the definitive film that brought truth and honesty to Aids and the emotional devastation that it brings. Not the Hollywood bland version of PHILADELPHIA starring Tom Hanks.

LONGTIME went into areas that Hanks watered down version steered completely away. Cassidy's performance was both loving and heart-breaking. Just watch his scene in the hospital for proof.

Patrick most recently appeared on Broadway in AIDA (as well as the national tour for which he won the 2002 National Broadway Theatre Award for Best Actor in a Touring Musical), ANNIE GET YOUR GUN opposite Cheryl Ladd, PIRATES OF PENZANCE AND LEADER OF THE PACK, which earned him a Tony nomination for Best Actor.

He originated the role of the "Balladeer" in Sondheim's ASSASSINS at Playwrights Horizons and appeared in Lady in the Dark at City Center's Encores!.

His films include LONGTIME COMPANION, I'LL DO ANYTHING, I WON'T DANCE and BURNING LOVE. He starred in the TV miniseries DRESS GREY (Emmy nomination) and NAPOLEON & JOSEPHINE, the TV movies-of-the-week OKLAHOMA CITY, SOMETHING IN COMMON, CHRISTMAS EVE, HOW THE WEST WAS FUN AND FOLLOW YOUR HEART.

TV audiences may also have seen him as a series regular on NBC's BAY CITY BLUES, CBS's DIRTY DANCING, HBO's PERVERSIONS OF SCIENCE and the WB's SMALLVILLE.

This critic has personally seen Cassidy since then in various films and TV. On stage I've had the pleasure of seeing him deliver an outstanding performance as the doomed lover "Radames" in Elton John's rock opus, AIDA, and just recently on Broadway as a sexy "Julian
Marsh" in the current 42ND STREET, now playing its final performances at the Ford Center. Which is where our interview is conducted.

I arrive at the Ford Center for our interview on a cold, rainy New York evening. I am to interview Cassidy in his dressing room, just 90 minutes before he steps into the skin of strict, thundered voice director "Julian Marsh".

I am led down a winding staircase and deeper into the belly of the Ford Center, passing orchestra members, cast members in mid make up, rows of body mikes on the walls, and rolling cases that contain sequined, glittery costumes in them. Hmmmm.......I wonder if they noticed if I kept one of those gold beaded jackets from the finale as a show gift? Better not.

As we come around the corner, we actually bump right into Cassidy who is walking straight toward us.

Cassidy is much taller than I assumed. But the strong, extremely handsome features are there, with those now very familiar blue eyes. Only difference now is the hair is silver. But don't let that fool you, if you saw BROADWAY BARES this year, you know that the man works out! After introductions are made, we are led into his dressing room where we begin our conversation:

JOHN GARCIA: We're here in the dressing room of Patrick Cassidy at the Ford Center of Performing Arts, which in a couple of months becomes the Paris Hilton Theatre...uh... I mean the Hilton Theatre.

PATRICK CASSIDY: I think the Paris Hilton Theatre's the way to go!
Are you kidding, she's very famous now! (laughs)

JG: God help us all. What's happened to reality TV? First of all, thank you so much for having us here in your dressing room and taking time before you have a show to do.

PC: It's a pleasure. Thank you, glad to be here!

JG: Earlier you were telling me that you just had an accident last night on stage. You cut your hand, bled like crazy, but still you were a trouper and went on with the show!

PC: (laughs, holding his injured hand, which is taped up). Yeah I had a moment on the stage where I come in, sort of barrel in. I play "Julian Marsh" this tyrannical director, whose ranting and raving all night. Anyway, I barrel into the dressing room and I slammed the door. Well the door caught my pinky ring finger, so now I have blood gushing on me, as I'm sort of barking orders to everybody. And I was doing my best to let the audience know that this was DRACULA THE MUSICAL but indeed 42ND STREET. (laughter erupts in the dressing room). But I think I'll be OK for tonight.

JG: I saw the 42ND STREET revival like a month after it opened here on Broadway with Michael Cumpsty in the "Julian Marsh" role. I've seen it on tour as well. But to be honest with you I think - and by this I mean as a compliment - you're the first matinee idol "Julian Marsh" that I've seen.

Usually, it's played by an older, character actor. I mean Jerry Orbach did originate it. But with you in the role, I think it really gives a dimension with Peggy Sawyer that I've never seen before.

PC: Well thank you. You know what's interesting about how I even got the role. My mother sort of got approached to do Dorothy Brock and she came to me and said I really don't know if I want to go back and do eight shows a week. It's really difficult at her age. She hadn't been on the stage in thirty-eight years.

And then she said, "Why don't you do it with me! I'll do it if you'll do it!"

I said, "If I do it? Mom, One, I haven't been offered it and two, I didn't know if there was a role. I had not seen the show ever! So I was completely in the dark. And then I thought, well there's Jerry's (Orbach) part. But I never thought that I was that old, because when
it opened I was nineteen! I was doing PIRATES OF PENZANCE! I said " Oh well guess what?! I am about that age!" So here we go. So it became available and the producers caught wind of the idea of the two of us coming together. So I went into it with her and it was a fantastic, overwhelming, and surprising experience. Not just in terms of getting to work with my mother, which was just an event. But this part and this particular actor - we melded. I didn't know about this role, I hadn't seen anybody do it so I didn't have anything to compare it to.

But for some reason, when I put on the blue pinstriped suit and the wig I become...(his face takes a soft glow as the memory flashes over his face) my father. (Editor: That would be film/stage/TV star, the late Jack Cassidy).

Cassidy continues, "I become a version of this sort of Irish, New York guy who can order people around and get the show up on it's feet pretty well. So it's been great. I've had a great, great time so far.

JG: I've seen different "Julians" in 42ND STREET and the unique thing with you in the role is that it really gives it freshness and a new sexy, romantic twist to the relationship between "Peggy Sawyer" and "Marsh". Usually it's been played like a daughter/father relationship.

PC: Right, right, exactly.

JG: But with you (in the role) and because of your looks, your stage persona, and stage presence, it just really went a totally new direction which I really enjoyed. Gave it a whole new twist...

PC: Oh, wow, well good and thank you.

JG: You wonder if "Peggy" and "Julian" skip the cast party and go for drinks on their own. I think it leaves a whole lot more up to the imagination which I think works a lot better for the characters.

PC: Oh good! Well that's great to hear. I'm thrilled. And like I said, I'm having a grand, grand time doing it. We're sad that it going to close in January but it's been fantastic thus far. It's one of the few shows that have a huge cast.

It's one of the few musicals, I think, that one can really see the money on the stage. This show is remarkable. You don't see musicals or shows like this ever anymore. God knows they're too expensive to do. But with this show they really put the money on the stage in the costumes and in the set and in the amount of people. I always say this in the talkbacks; I talk about that the show backstage is so unique and so impressive. The way these dressers, hair & wig people make it seem seamless.

Like they have these tiny little paths that one has to get through to make a quick change to get back on the stage. I mean it's timed out so beautifully and runs so well it's really a wonderful thing to watch.

JG: If I recall, was your first show LEADER OF THE PACK?

PC: Actually my first show was THE PIRATES OF PENZANCE in 1982. I took over for Robbie Benson. Rex Smith had originated the part and then Robbie Benson did it and then I did it. I did it on the national tour first.

That was my first real professional theatrical experience, and I'd been not even a year out of high school. I did it for three months on the national tour, then came to New York and I replaced Robbie. I did it for a year on Broadway. And it was amazing. It was the greatest
learning experience any actor could ask for because I was studying at H.P. Studios in the daytime and I was learning on my feet the craft at night with some really gifted performers- like Treat Williams, Maureen McGovern, Kay Ballard, and George Rose who was just remarkable. It was great.

So that was sort of my big Broadway debut. I returned to New York in 1985. I DID LEADER OF THE PACK & then subsequently ASSASSINS.

I worked with Encores! and lots of stuff regionally, Hartford Stage in Conn. and the Ford Theatre in Washington. Then I did ANNIE GET YOUR GUN a few years ago and then AIDA for a year. I got to come and do AIDA for a couple of weeks here on Broadway when Adam Pascal hurt his back. So I've gotten to really come back and forth from New York. And never being really a New York actor my residence was always in California. But I've gotten the New York experience and I love being here. It's great.

JG: Because you came and worked on Broadway at such an early age, with the end result a Tony nomination. What was all that like?

PC: Oh it was great! I mean it was overwhelming though. I was just talking about this tonight with another actor, a fellow actor, about that whole experience that happens to young people when they get too much too soon. You know what I mean? Now I feel like that didn't really happen for me but for both of my brothers it did, they went on o become huge stars in their late teens.
(EDITOR'S NOTE: For those living under a rock, Patrick's brothers are Shaun and David Cassidy. Both became teen idols and pop stars with a hit TV series and several pop songs become hits.)

That's a huge thing to grasp. And nobody understands that unless you go through it. I think that's the one common bond that they (his brothers) have in common is that they both uniquely and separately went through that experience. What that does to you and how you deal with it. It's a very difficult thing to overcome.

This actor I was talking about has an uncle that became famous young and then it didn't happen for him later and then he unfortunately turned to drugs and alcohol. That's what happens so many times. It is that adulation that you get at such an early age, but then you don't have the foundation to ground you. So what happens is you then, when it stops, when the business stops calling you are grabbing at straws and you don't know what to do. So you look for other outlets.

But I was the lucky one because that didn't happen to me (the fame), but more importantly because I had two siblings to learn from and my parents as well. I do believe in that it was a conscience choice in starting in theater. I came out of high school and my last name
pulled a lot of punches in terms of teen and bubblegum music.

I could have easily put on the spandex pants and recorded songs and maybe done the same thing. Had I made that choice. But I made a real definitive choice to go to New York and give my wares a shot there. Luckily I got cast in a show and was studying at the same time. So I really got to learn on my feet at a young age there. I think that gives you a sense of foundation. It definitely gives you a sense of craft and understanding of what you're doing.

JG: Do you think producers or directors looked at you in a different light because of your pedigree?

PC: Oh yea! I think it helps you at certain times and it hurts you too. It helped me in the sense that I had every agent at my disposal and managers. I had people at the top of their game in terms of representation wanting to represent me. Where it closed a lot of doors
was it completely, immediately put me into a category. As opposed to me sort of showing what I could do or couldn't do. Then you have people making their own definitive choice or distinction as to what I was. I immediately was a "teen guy". You know what I mean? And so I had to overcome that. So in that realm it did give me opportunity.

EDITOR'S NOTE: Right at this moment a loudspeaker blares out: " There's a food order at the stage door from Burritoville, a food order from Burritoville.

JG: Oooo! We're getting burritos now!

PC: (laughs) Yeah! Anybody up for a burrito? Ah, welcome to the theatre and the sound speaker system.

Anyway, like I said, it gave me the opportunity to do those kinds of parts but it also limited me to those types of parts. People weren't going to take me seriously as a dramatic actor until I proved myself. So that's why being in New York, trying to work in the theatre,
continually doing regional stuff or a play here-that's given me over the course a long career and it's given me the longevity.

It's given me something that has sustains. I did an interview one time when I was doing JOSEPH (JOSEPH & THE AMAZING TECHNICOLOR DREAMCOAT) I remember giving an interview to Playbill, and the head-line of the interview was " Cassidy Doesn't Want to be a Star" or something like that. Essentially what the interview was about was how I had never considered myself or thought of myself or ever wanted to be a quote/unquote star. Even though I had come from a family like that. I wanted to be taken seriously for what I did by my peers. I wanted to hopefully do good work. I mean that was all. And I think I've achieved that. If I never ever became a household name, it honestly really didn't matter to me.

I've managed to work at what I love to do, I have a family that I can support, thank God and I've gotten to do a variety of not only roles but also a variety of different avenues of the business. I've got to work in television from sitcoms to dramas. I've got to work in the
theatre, both straight plays and musicals. I've even gotten to do Vegas, recordings, and right now for the first time I'm putting my own one man show together.

JG: Really? Oh Wow!

PC: Yeah, so I've been very lucky and very, very blessed.

JG: So I read that you were doing a workshop of a new musical called TAKE FLIGHT?

PC: Oh Yeah and it was amazing. Here I'm doing a show on Broadway in a great role and then you're also creating a new show in a workshop during the daytime. You know that's the dream. Well, (laughing) the schedule kills you.

It was a month of agony in terms of not being able to speak at all. "Julian Marsh" is a very demanding role. You're yelling & screaming all the time.

The part of "George Putnam" in TAKE FLIGHT plays opposite "Amelia Earhart", who were married to each other. It's a big part in this wonderful Richard Maltby and David Shire show. It was incredibly taxing but unbelievably creatively rewarding. I hope it comes to
fruition. I think it will. It's a fantastic score.

JG: Do you think there will be a mounting somewhere?

PC: I do think that there will be. I do know that the workshop went really well. They had an amazing cast. It's an ensemble show even though it focuses in on three stories: the "George and Ameli"a story, the "Lindbergh" story and the "Wright Brothers". But it's an ensemble piece and beautifully performed. Like I said, it was such a great cast they put together. Richard and David both seemed thrilled with what we did. Hopefully, some theatre company or some producer will get attached to it and we'll have a production of it soon. You know it's hard to sell those kinds of shows. I know because the ones that have all the heart and the smarts are the most difficult to sell.

You know someone in the audience would ask, " Well when's the guy going to fly?" (the room fills with laughter).

"When are we going to be able to put him over the audience hanging from his ankles? When's that going to happen?" (more laughter).

JG: "Where's the dragon? Where's the dragon?"

PC: (now laughing) "Oh! It's about planes! Oh, OK. We'll have one of those little Sesna's buzzing around each person, right?". Alas, no that's not what we're going to do. Not exactly, just a little different. (more laughter).

JG: My first exposure of you and your talent was the ASSASSINS cast recording and then the concert at Carnegie Hall.

PC: Oh really?

JG: I got hooked immediately with your voice on the ASSASSINS cast recording, and then, thankfully, it was preserved visually on the Sondheim salute concert at Carnegie Hall. You have a very pure, clean tenor voice. It really is a beautiful singing voice.

PC: Well, John, thank you. That (ASSASSINS) was, without question, the most rewarding theatrical experience I've ever had in terms of getting to create a Stephen Sondheim piece. Very few people on this planet will ever say, "I was the guy. I got to do it first in 1991".
So from that stand point it was just amazing.

I remember clearly that it was, at the time of the song, "The Ballad of Booth" was being written and I was singing it in previews sort of like a low register in my voice. Then as we got into previews it seemed like it was too low.

(Here, Cassidy proceeds to sing perfectly clear and clean, "Why did you do it Johnny?" in a lower register).

I remember Mr. Sondheim saying to me, "You know, let's take it up". So they took it up, then they took it up again and took it up again.

Anyway they ended up raising the note a third from the original composed key. Not knowing my voice, because I really wasn't a trained singer - I was sort of a pop singer who'd sung in bands and stuff. I didn't know what my voice was capable of doing. And then this, sort of this sound that came out of me......

(Cassidy sings in a high, lilting, tenor's voice, "Why did you do it Johnny?". And let me tell you readers, he sounded exactly like the cast recording. His voice has not changed at all!)

'He continues: That was the kind of sound they wanted and said, "That's him. That's 'The Balladeer!'". So that became it. I set the precedent for what that sound would be for that show. How many times in an actor's life can you say that?

JG: In my personal opinion I think film critics and film historians have got it wrong. I personally think, as do many of my close friends - I consider you and the cast of LONGTIME COMPANION as the breakthrough film concerning AIDS and the impact it had emotionally on everyone, and NOT Tom Hanks and PHILADELPHIA. I thought PHILADELPHIA was extremely weak and barely even skimmed the surface.

I think I told you this on the phone when we spoke back when you were in Dallas with AIDA that when it came to the scene in the hospital between you and your partner, I walked out. It was too hard to watch. And at that time that's when the first wave was hitting hard.

PC: (His face clearly showing he was touched by these comments, he says softly): Thank you so much, that's very kind of you.

JG: Bruce Davidson, Dermot Mulroney, Campbell Scott, and you are all straight, and back then for this film to be so honest, real, and much more intimate and physical than Hanks and Antonio Banderas ever was. To take on those roles back then, it was groundbreaking for you guys to do that. That took some major guts.

PC: Thank you. In my particular character, you know I played an actor who gets a job on a soap opera and they're trying to write him as a gay character, and he has a problem with it. How's this going to effect my career?, meanwhile it's art imitating life, life imitating
art. I was living that.

But you know something? The script was so fantastic. I had known Norman René' and Craig Lucas both (EDITOR'S NOTE: The film's director and screenwriter). I had auditioned for PRELUDE TO A KISS when they did it at South Coast Rep prior to it ever coming to New York. I didn't get the role (laughter all around), but somehow they remembered me.

Two years later I get a call from my agent that said, "You've been offered a movie." (pause) "Excuse me? I didn't hear what you said. I've been offered a what? You said the word offered?" And they said, "Yes. You've been offered a movie."

Then they sent me the script and I read the script and I went, oh my gosh! This is unbelievable! And at the time everybody (in the film) worked for scale. All the actors donated, it was scale. Everybody. Pan-o-vision donated their camera equipment so it could be made. 'Cause it was made on a shoestring budget. They did it for less than a million dollars. So everything was done as a labor of love. We knew we were doing something really special. But we didn't know that what we were doing was breaking ground. You know what I mean? I think maybe Craig knew. I think Norman knew. But us as actors thought we were just doing great acting. And it wasn't till the first premiere I attended and saw it that I said to myself, "Oh my gosh. This is the first of its kind. This is the first time that anybody's ever seen this, talked about it on this kind of scale."

You know, you don't get to do that. I mean like I said before, you get to originate a Sondheim thing, which is an amazing thing within itself, but then the idea of creating something that no one's ever done before, in terms of cinema, is really beyond a blessing. Like I said, those two particular projects are the ones I relish the most.

JG: I've always considered your performance and those of the others as really breakthrough. Nothing against Tom Hanks, he's a great actor and all that, but I think it was you guys that really splashed brutal honesty on the screen. I just don't think PHILADELPHIA holes up, where as LONGTIME COMPANION still does.

PC: That's wonderful to hear. Thank you.

JG: But it is still a tough film to watch emotionally.

PC: Oh yeah, I agree it is hard. I'm mean it's very hard when you consider everything that's gone down now since then. But it was an amazing experience with that group of actors.

Bruce Davison got an Oscar nomination for it! Mark Lamos directed me in something at the Hartford Stage when he was there. So we worked together and I've worked with Campbell since and Mary Louise Parker was in it, I mean it was just a remarkable group of people in it.

JG: I saw John Dossett right here at the Ford Center playing "Father" in RAGTIME.
(EDITOR'S NOTE: Dossett portrayed Cassidy's on screen lover in the film. He was just nominated last season for a Tony for playing "Herbie" in GYPSY.)

PC: Oh he's amazing in that and recently in GYPSY. He's so good and so talented. We did a funny thing..... I'll tell you one story.

The movie when it opened, not only did it get so much press and so much talk because of the subject manner, but there were also a couple of very intimate kisses onscreen. Two of which I did. (laughter). One on the soap opera which was staged. Did you know that the other actor I had to kiss in the soap opera was none other than Brent Barrett?!

JG: No way! That was...

PC:.....Yep! That's Brent Barrett. Take a look. That's Brent who plays the soap opera guy. And he and I do this big screen kiss. And that was the one were they do this fast cut to all the televisions in the store. Where they show the kiss on all the TV sets!
(EDITOR'S NOTE: Brent Barrett delivered a superb performance as slick lawyer "Billy Flynn" in CHICAGO when the first national tour came to Dallas. He has also played the role on Broadway. Barrett also came through Dallas in the ANNIE GET YOUR GUN tour as "Frank Butler" with Cathy Rigby).

PC: John (Dossett) and I remember when we had to do our moment. You know John's a straight guy too. So we're sitting in the makeup chair that morning. Usually, well at least I do as an actor, I like in the morning to sit in the chair and go over my lines. I also like to get together with the other actors and talk about what we're going to do and talk about the scene and so on and so forth.

That particular day, John sat to my left and I was just standing there. All we talked about was who was going to win the NBA champion-ship (laughter). I was a huge Lakers fan and he was a huge Pistons fan. That's all we talked about. For some reason, I don't know if it
was a conscience thing but it there was this subconscious thing going on about this sort of machismo thing.

"No, no I'm telling you the Lakers are going to win!"

"Oh really? I'll bet you fifty bucks...Let's make it a hundred, OK?!" (laughter) And it got that kind of deal.

So when it came time to do this kiss and I was in the hallway with him and Norman directed us and he said, "Ok, John you go in here and Patrick you come in from behind him and you turn him around, then you undo his tie and then the kiss will happen right here and we'll do
it. Right?"

So we go back out there and I'm standing out there in anticipation waiting. And John looks at me and says, "Ok, We're going to do this right?" and I say "Yeah we gotta do this." Ok I'll turn my head to my left", he says" Ok you turn your head to the right. Ok?" And then I
said, "So help me John if you open your mouth..." and John replies back, "Open my mouth! If I feel your tongue I'm going to lay you out in front of the whole crew!" (laughter).

Anyway, like I said it was a fantastic, amazing movie, and life changing.

JG: Well I can see on the clock you have to get ready for your show! Patrick, I thank you very much for taking the time to do this. I hope you have a great run and also a great closing here. Oh, and all your fans in Texas hope to see you came back to Dallas really soon!

PC: I loved Texas & Dallas when I was there. It was great!

And with that we ended our interview!


**************************SPECIAL THANK YOU TO************************

This interview could not have happened without the following people
and their assistance. So a very special thank you to:

*Barbara Pazmino for getting me in touch with Patrick Cassidy.

* From Boneau/Bryan-Brown Public Relations in New York:
Susanne Tighe, Heath Schwartz, and Erika Creagh.

*Dennis Canright for transcribing the interview from tape to
computer! You are a lifesaver!

*Timm Zitz for taking the pics during the interview.

*And of course Mr. Patrick Cassidy! It was an honor and a total joy
interviewing you. Thank you again so much!

Read John's The Column